RESEARCH BY:

WITH SUPPORT FROM:

About the Research
October 2022
Endeavor Insight partnered with HSBC to examine the challenges that climate tech founders face as they scale their companies, and the opportunities for investors and supporters to help them succeed. This study demonstrates how global connectivity can further drive innovation and highlights what decision makers can do to better support female-led and minority-led companies.
Founder Challenges
Climate tech founders face persisting funding gaps and global talent challenges.

Access to growth-stage capital was a top barrier for scaling climate tech companies.

Qualified managers are more difficult to find than technical talent for scaling companies, so remote and foreign employees are increasingly necessary.

Climate mitigation cannot happen without hardware-based companies. Investors who favor more familiar software business models ignore the impact that hardware-based companies have. Companies with physical solutions need more patient capital and specialized support.
Innovation can come from anywhere in the world. Founders in rising and emerging markets are developing customer-centric and low-resource solutions, but they need more support in building connections to global climate tech hubs in order to scale.
Female and minority founders in climate tech face bias and difficulty raising capital. Climate tech companies with at least one female founder were less than half as likely to scale than companies with all-male founding teams. Strong networks and increasing representation helps with access to capital.

Good mentors in climate tech are hard to find.

Founders rely on networks in the broader tech sector, but qualified mentors with experience scaling a climate tech solution are rare.

Experienced climate tech founders should be encouraged to become mentors.
Global Connections
London is the training ground for the world's climate tech founders.
New York is a major supplier of the world's investment in climate tech.
Multiplier Effects
Founder-to-founder connections help the climate tech sector thrive.
Mentorship and angel investment from successful founders helps climate tech companies scale, and scaled companies are more likely to pay it forward to build their ecosystem.


An Assessment of the Entrepreneurship Ecosystems Based on Founder Connectivity and Reinvestment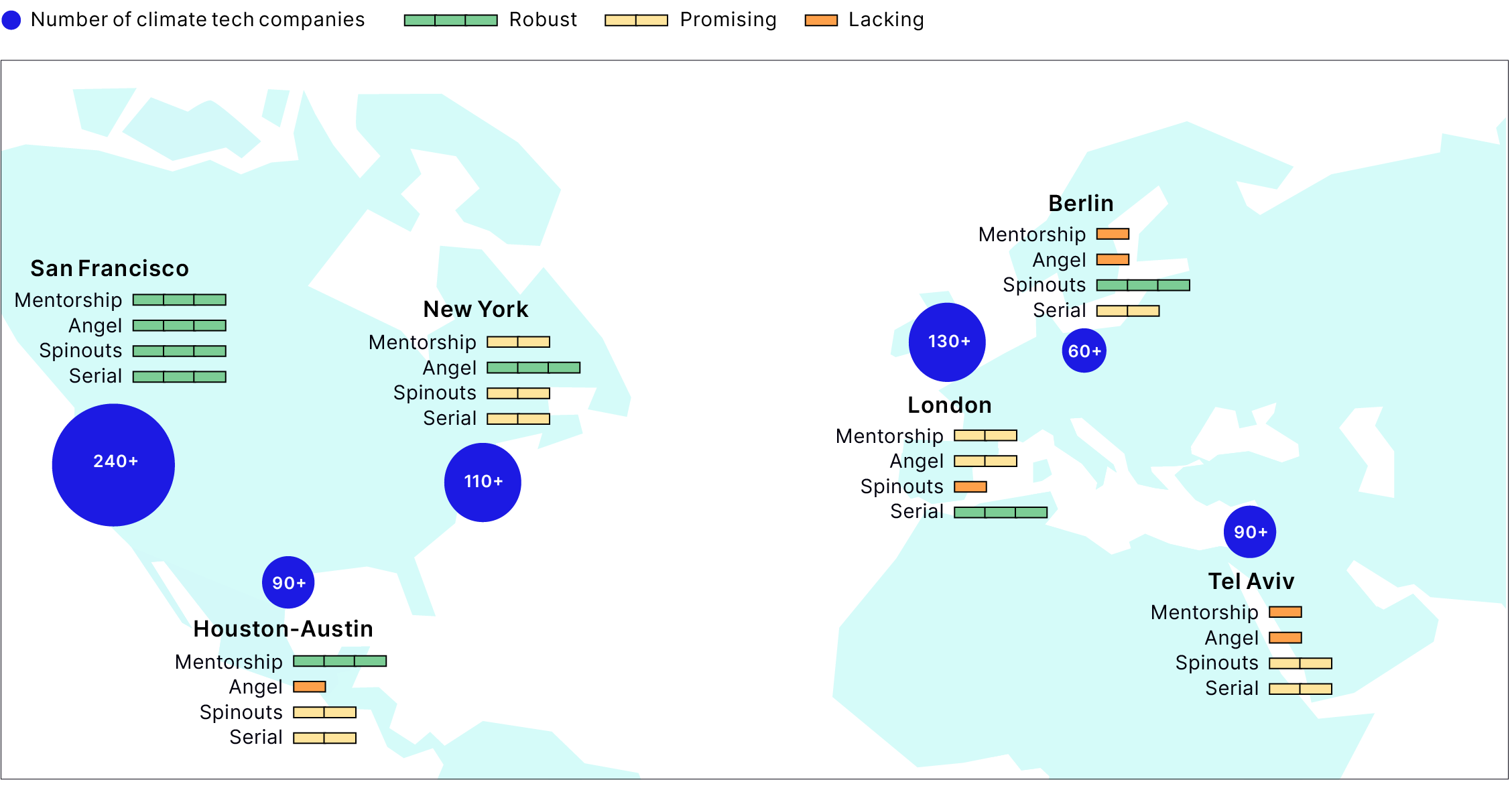 Experience Matters
Climate tech companies with experienced founders and a combination of skills are poised to grow.
A study of founder backgrounds illustrates that STEM and business experience is a powerful combination for climate tech founders. Companies with serial founders, those who previously started a different climate tech company, are more likely to scale their businesses.


Percentage of Climate Tech Companies that Scaled by Founding Team Education and Experience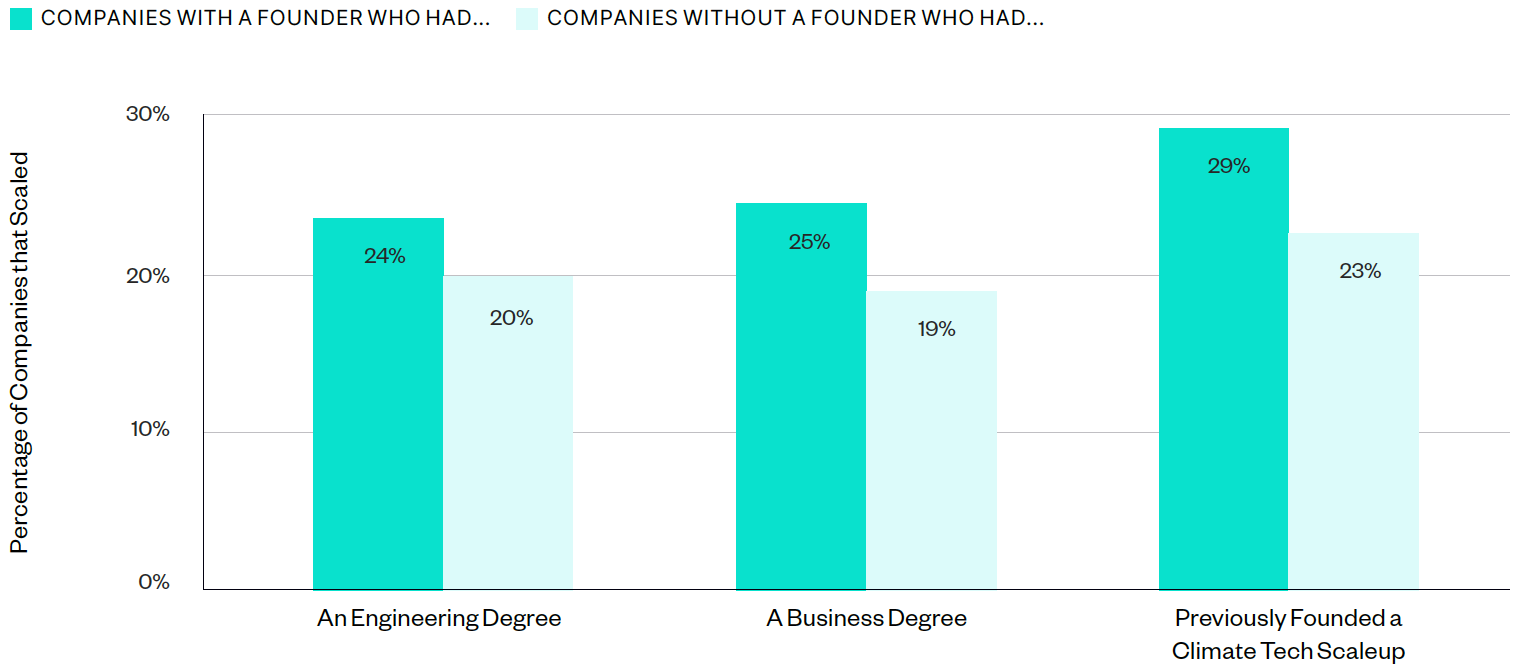 About the Data
The findings of this global study are based on more than 1,000 climate tech companies from around the world, with a focus on six hub cities: San Francisco (the Bay Area), New York, the Houston-Austin corridor, London, Berlin, and Tel Aviv. Primary data was collected through interviews with over 200 founders and several industry experts, and secondary data was analyzed on more than 7,000 other actors including institutional investors, angel investors, mentors, and support organizations.
About Endeavor
We are the leading global community of, by, and for high-impact entrepreneurs — those who dream bigger, scale faster, and pay it forward. Driven by our belief that high-impact entrepreneurs transform economies, Endeavor has been on a mission to build thriving entrepreneurial ecosystems in emerging and underserved markets around the world since its creation in 1997. Endeavor creates a Multiplier Effect by inspiring high-growth founders to dream bigger, supporting and investing in them to scale faster, and providing a platform to pay it forward — thereby compounding their individual impact.
Endeavor Insight is the research division of Endeavor that provides data-driven analysis and visualizations showing what makes entrepreneurial ecosystems thrive. Our research team of economists, data scientists, and policy analysts specializes in understanding the needs of high-impact entrepreneurs and evaluating the networks that enable them to scale up and pay it forward to the next generation of entrepreneurs. For more information, contact insight@endeavor.org.
About HSBC
HSBC Bank USA, National Association (HSBC Bank USA, N.A.) serves customers through Wealth and Personal Banking, Commercial Banking, Private Banking, Global Banking, and Markets and Securities Services. HSBC is playing a leading role in mobilizing the transition to a global net zero economy, not just by financing it, but by helping to shape and influence the global policy agenda. We are mobilizing finance to support our customers' transitions to net zero, accelerating innovation to help scale up climate change solutions and building global partnerships to ensure investment is swiftly channeled towards truly sustainable projects.